Discover more from 42 Slash
A publication on B2B marketing.
Over 2,000 subscribers
Edition 26: Networked Virtue Effects
Only Buzzwords
Promoting stuff really works eh. I managed to hit 60 subscribers through a combo of LinkedIn & Twitter posts!
Onwards to our regularly scheduled programming.
---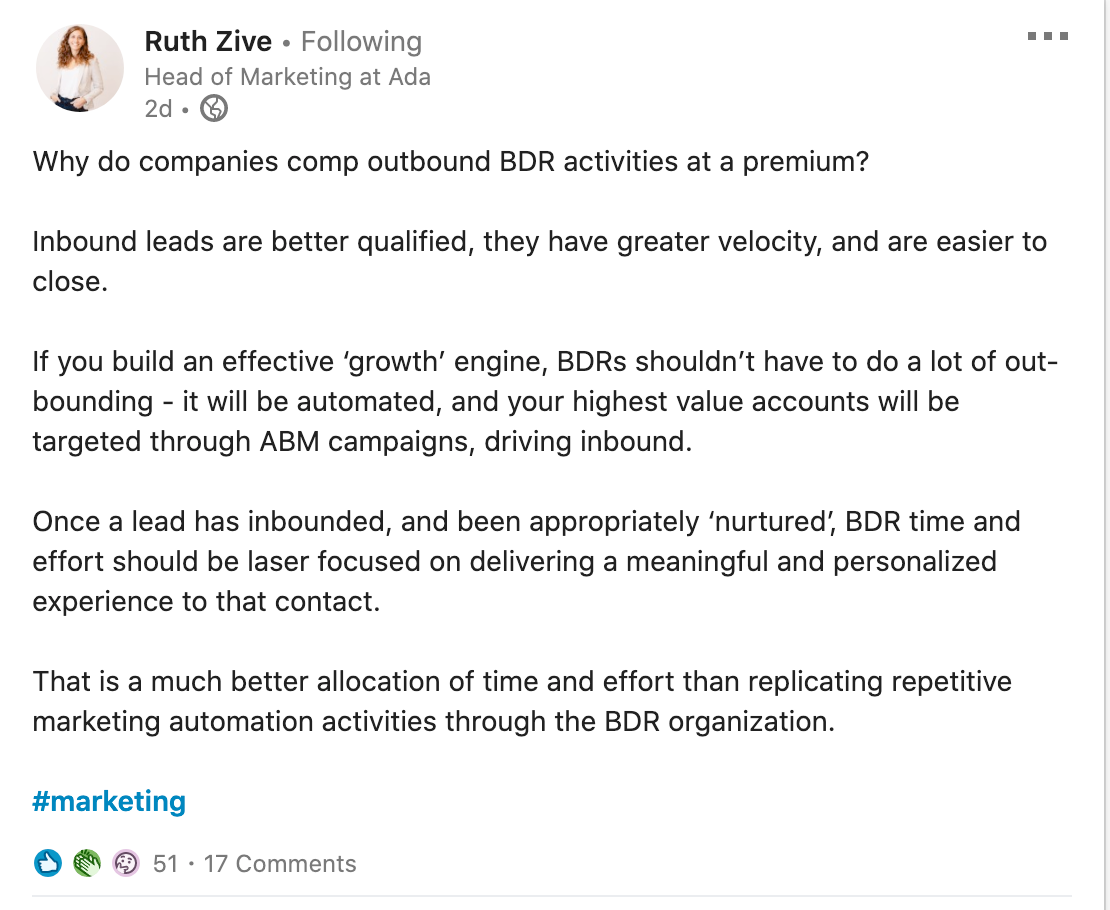 Completely agree with Ruth & one reason I lean towards the 'BDRs/SDRs' should report into Marketing, not the Sales side of the equation (and maybe call them Market Development Reps?)
Ada (support tool) started off as Volley (Q&A tool) incredible how they left that behind to become a support tool that's used by enterprise customers.
So which side of the fence do you sit on? Here's one thing that rubs me - Inbound takes time to get right. When you first start your shouting into the void. Over time as you start repeating yourself till you have no more voice left, people start listening & the inbound engine kicks in. Till then you have to do some of the outbound stuff - marketers have this notion that outbound is ugly & turn their nose up at it. It really doesn't have to be when done right. Ignore those LinkedIn posts about BDRs hitting up prospects 50 times & those annoying 'did you get eaten by a lion' emails. You can add value by going outbound.
Inbound can be a mixed bag of different folks with different intent so you have to treat them separately in different ways & you can't drive em all to the coveted demo page. Most of all you need to invest in it & give it time. Hubspot's Inbound marketing took years to build (the term + their own inbound marketing') but you already knew that.


Where I disagree with Ruth though - High-Value Accounts won't just pop by your site through pure inbound that's leaving it up to chance.. You have to do the ABM stuff parallel with an outbound play & align both on messaging, frequency & timing.
---
I doubt any company (in tech) doesn't use Slack but here's an interesting take - Shared Channels (think about inviting customers to a closed slack channel for support or me being added to clients slack channels for easier albeit annoying at times communications) is almost like the 'Sent by Hotmail' back in the day or Powered by Intercom on web chats. Slack's customers are driving WOM & adoption through shared channels - and once a person who doesn't use slack experiences it, they can take it back to their own company. Same for Trello & other PM tools & referral programs that drove growth for Airbnb etc.
I am waiting for Jason from Basecamp's take on this.
---
SEO is incredibly hard but incredibly scalable. I remember doing an SEO strategy + execution for Organimi back in the day (Org Charts) and one day I woke up - 13 months later to find Organimi outranking Visio (biggest competitor circa 2010) and it was a glorious moment. It's gotten way more competitive now with LucidChart / Pingboard & the likes so like all marketing - its not a set it & forget it thing.
No we didn't write 11 ways to build an org chart type articles - neither did I do any active link building by spamming people. We just re-organized our entire website around Org Charts & Creating Org Charts which propelled the home/product page to the coveted #1 spot in the search results.
Ironically now it's at #4 for Org Chart Tool with Canva right above Organimi!
---
I wrote about this a little. The manual / human touch becomes more important in the age of more automation & putting SME's front and center to solve customer problems & consultative selling/success. Here's where I wrote more.
---
One of my 2020 predictions is a Vidyard acquisition. In the meantime here's a podcast on GoVideo which I believe Wes worked on during his time there <?>
---
Other interesting reads (s):
Not a fan of adding more buzzwords or made up JT's but interesting POV on Cheif Marketing Technology Officers.
Is Superhuman the most hyped VC focused product? It reminds me of Allbirds sometimes.
I read this about how they engineered product-market fit & it's brilliant but then can they cross the chasm into the mainstream market. There's alot of mixed reviews in the wild. I was an ex-customer, till I told my wife I pay $40 (CAD)/mo for an email client & she thought I lost my mind. She was right of course.
Coming to Year 3 in March. This resonated heavily:
The soundtrack was Monsters & Men.
Till next week.
Kamil