Discover more from 42 Slash
A publication on B2B marketing.
Over 2,000 subscribers
Edition 18 - I want to sell to myself
How do I know my re-marketing ads are working?
Some background, a few weeks ago I started running some RollWorks re-marketing campaigns. Basic 'if they came to my website I want them to see my ad stalk them across the internet'. I had just gotten some creative done via the team at SuperSide (referral link) and I desperately wanted them out in the world.
Today, while doing some work, I came across a TechCrunch article that Vistia Equity Partners had acquired Acquia and boom. There it was. A beautiful 300X300 display ad in the right column of TechCrunch - it was one of my ads.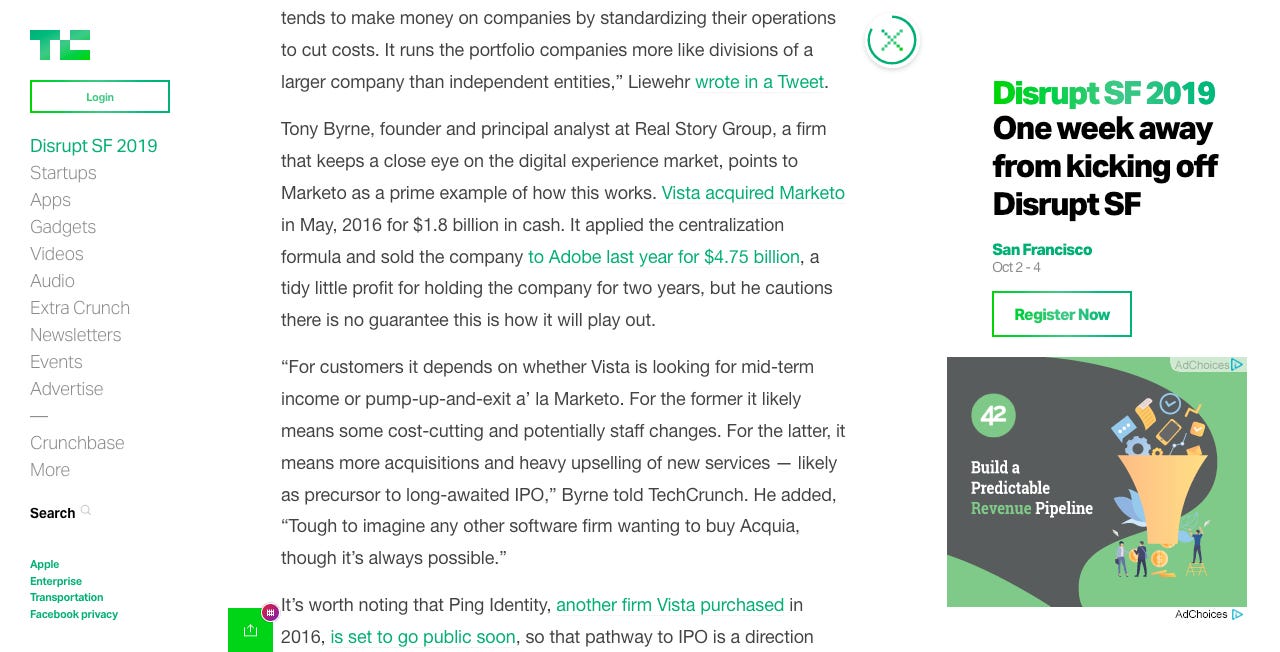 My wife was laughing. I slacked Jess & she said 'Your marketing works! FOR YOU!'.
She isn't wrong. I am my own ideal customer (for when I was in-house). Also credit to Jess to suggesting the title for this edition.
---
Up next: incredible podcast by the good folks at Databox:
The SVP of Marketing at Intercom talks about silo'd marketing teams & LTV lifts from tests.
A while ago I tweeted that Intercom has a positioning problem as they've moved away from a single solution (website chat) to something of a Support/CRM/Email/Onboarding tool for businesses. As the product offering has expanded, it's harder to nail what Intercom does.
This came up a few times in client engagements. The Marketing/Sales team wanted to implement a chat tool to qualify/engage with folks on the website. Support was already using intercom to support existing customers but Sales/Marketing didn't precieve intercom as the tool for marketing/sales so they started looking at things like Drift.
Drift has a very strong positioning in the marketing/sales world. But Intercom by contrast has always been quiet on heavy advertising (display/search aside). They've had a fantastic content/editorial team and as the product has expanded, as has the Inside Intercom publication on what they cover. But you'll notice they talk about Product/Marketing/Sales & Support. Drift by contrast focuses exclusively on Sales/Marketing roles.
As Shane talks about on the Podcast - Intercom's positioning is a challenge. They do 'many jobs for different people' and unifying that under single brand narrative (I refuse to use the term 'story') is challenging.
One thing he did mention - Intercom is known for the chat tools hence the new H1 on their re-vamped website 'Come for our Chat, Stay for Everything Else'.
---
Staying with Databox for a quick second - the CEO Pete (great guy) asked why people churn / how to reduce churn earlier this week. They're a self service tool and relatively low price point.
I admit I have been using the free version for some time and upgraded for a month before canceling. A couple of reasons for me:
I need dedicated time to setup client dashboards

Paid is not the only thing I focus on

Alot of clients I work with use Marketo/Hubspot/Pardot/Salesforce so I setup reports/dashboards there. Granted those don't pull in cost/ad-network numbers but they show pipeline and the team already has a habit of checking those tools. I was getting some adoption hurdles from the client teams on checking their databox dashboards weekly.
As I write that out, I could have used it for my sprint calls - have the dashboard pulled up to review results.
Gia (Elevate) nailed it here:
That is all for this week folks. I wasn't as diligent about keeping notes in my Evernote notebook so when I sat down to write this, faced with an empty notebook was daunting. But I managed to pull something off!
Kamil
P.S Welcome aboard Sibil!